GTR Driving Simulator GTA Model Black with Blue Racing Seat Steering Wheel Stand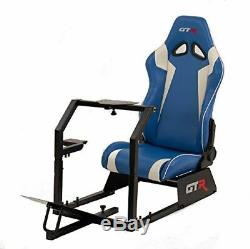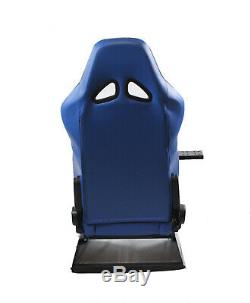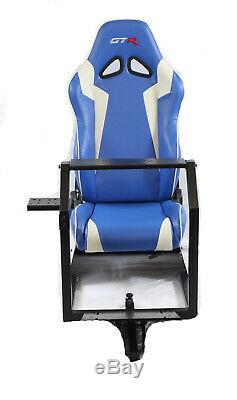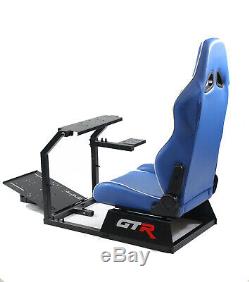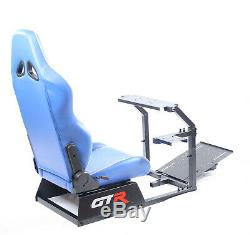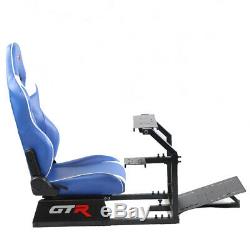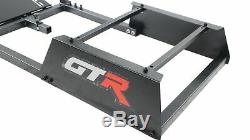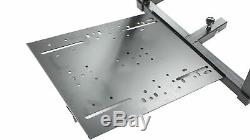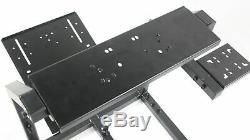 GTR Driving Simulator GTA Model Black w/ Blue Racing Seat Steering Wheel Stand. Welcome to the Future - GTR Simulator.
Its not that we broke the mold, we just never used one. The GTR racing simulation lets you experience to the same thrill that real-life racing drivers feel behind the wheel. GTR Simulator has engineered a fresh new look in the racing simulator market. The test drive starts at your house.
Regardless of you're racing a Formula Car, Radical Racer Car, Le Mans, GT Race cars or just sedan or coupe, the track comes to your house. The racing experience comes to you. Now you can drive your own race car, drift car, or any types of driving in the comfort of your house. GTR Simulator is an entirely new kind of driving experience, for an entirely new kind of racing simulator. You will feel like youre in the middle of the action on your favorite track!
Brag to your friend about your driving technique, compete your performance against the computer or your friends, or race online against other drivers anywhere in the world. Find out why professional gamer and racer uses GTR Simulator for their gaming and simulation experience. Immediately after you bolt a force feedback wheel to GTR Simulator, you will immediately feel the solid firm feeling of steering, accelerating, and heel and toeing without the thought of a vibrating wheels mounted to your desk or low quality built racing simulator. The GTR racing simulator is compatible with all digital driving wheels ranging from Logitech G29, G920, G27, Logitech G25, Logitech ForceGT, Fanatec Porsche Turbo S, GT3 RS, GT2 and MOMO wheels. GTRSeat racing Simulator works right out of the box with your favorite console such as PS3, PS2, Xbox and Xbox360, PC, or Wii.
This is why GTR Simulator is the best racing simulator in the world. It is affordable, designed by professional racers, tested and R&D to make all necessaries modifications, which makes GTR racing simulator the best racing simulator in the industry. The GTR racing simulator features a robust and stable metal frame and a well-thought-out design that makes this game seat comfortable, stable, responsive and unique. All of the racing seat installed on the GTR racing simulator is actual racing seat that can be mounted onto any car, unlike other competitor who uses folding seat and compromised strength and durability, increase chance of vibration and compromised stability, it is no questions that the GTR racing simulator is industry's best driving simulator. GTR racing simulator will work with almost every console, player and steering wheel.
The simulator are perfect for anyone age 8 and up. With it's newly redesigned seat, even professional racer would bolt our racing seat onto their race car or their daily drivers. Built with the highest quality material and precision, no competitor come close to the GTR Racing Simulator.
GTR Simulator unveils the new GTA Driving simulator is effortless comfortable with countless of groundbreaking design bringing the player ultimate driving experience that is comfortable. GTA driving simulator allows the player comfort that cant be imagined. The GTA driving simulators 14-way adjustable seating position offers the key element of the ideal driving position for countless hours.
Comfort that transcends the journey and helps you finished gaming refreshed starts with a fully adjustable racing bucket seat. The all-new GTA Driving Simulator. An unrivaled level of precision and detail.
Ignite your passion for driving. A striking design that looks superb in any light.
New GTA driving simulator features a sculpted aerodynamic profile for stability. Endless tweaking transformed the GTA driving simulator into the sport-tuned driving rigs.
Style, Substance and the right connections. Clearly, our designers thought outside the ordinary racing simulator box. Instead, they focused on the details and sculpted an athletic profile that is perpetually poised. Pedal Plate flow purposefully from the Steering Wheel Plates. Lines convey power and agility.
It's all meant to pull you into the seat where there are countless reasons to never get out. With its assertive stance and sculpted lines, the GTA Driving Simulator is a balance of beauty and strength. Seat Material: Steel, Synthetic Leather. Seat Bracket Material: Alloy Steel. GTA Adjustable Bucket Racing Seat.
Logitech G27 Steering Wheel, Shifter, and pedals are not included. New 2018 Model Now Available in different colors - Please check our other auctions for different colors. Otherwise your order will be cancelled. GTR Simulator is not affiliated with Microsoft, Xbox, Sony, Playstation, Logitech, Fanatec, Wii, Apple, Need for Speed, Forza Motorsports, Gran Turismo, Playseat, VisionRacer or any other company in any way.
All logos images and trademarks remain the property of their respective owners. I did want to tell you that my was totally pleased with the GTR cockpit.
And I too think it is the one of the nicest I've seen anywhere in stores and on the internet. It is very well constructed and assembles without any problems. Even this finish is professional grade. I'm sure that once my son's friends see and try it, you'll be getting a few more orders to fill in this area. Joe Dart from Hellertown, PA.
Folks, this seat is a phenomenal deal. Are any of them a better value?
Not that I could find. Others are 3-4x the price and for what? The whole thing is well designed and very rugged.
The seat itself is worth most of the price. Nice thick leather(ette), double stitching, embroidered logo, etc. The frame is very solid. I did not have any of the problems that other buyers mentioned.
Packaging was sufficient and fully intact. All the hardware was there. Everything mated up perfectly with no modifications.
My Logitech G29 Wheel, Shifter and pedals bolted right up with the supplied holes. Total build took me all of 2 hours, so still 5 stars.
It is a real bang for the buck. Listing and template services provided by inkFrog. The item "GTR Driving Simulator GTA Model Black with Blue Racing Seat Steering Wheel Stand" is in sale since Saturday, June 2, 2018. This item is in the category "Video Games & Consoles\Video Game Merchandise". The seller is "racesimstore" and is located in Pomona, California.
This item can be shipped to United States.
Brand: GTR Racing Simulator