2011 Ferrari California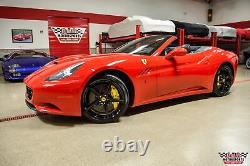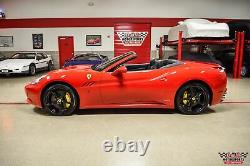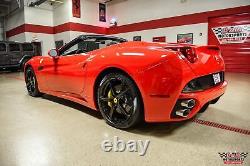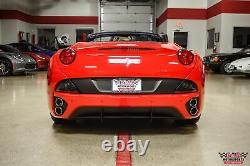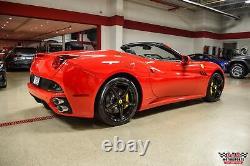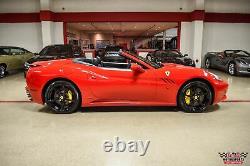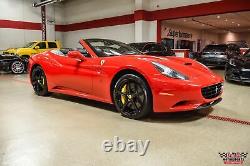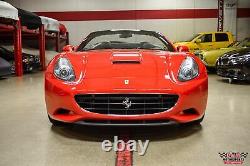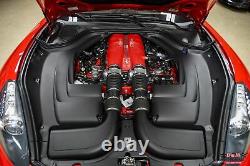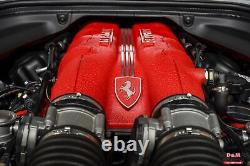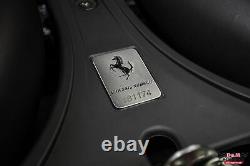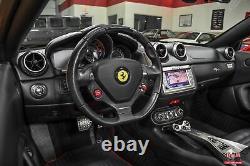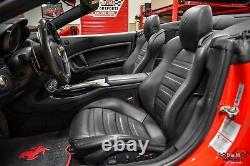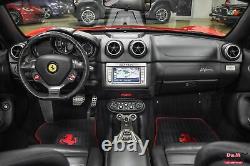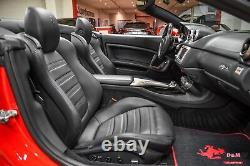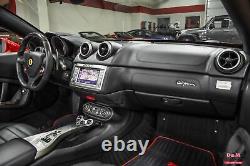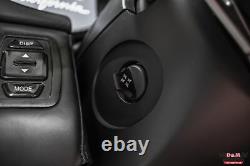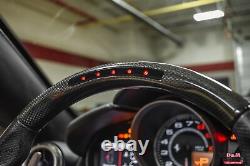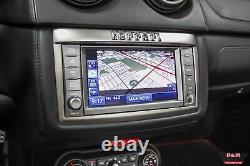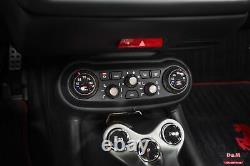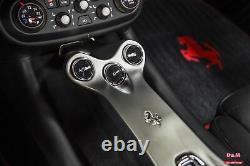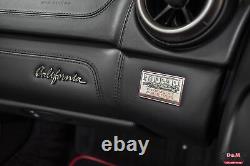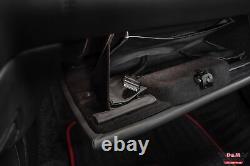 Carbon Fiber Steering Wheel + LEDs, Heated Seats & More! 4.3L V8 460hp 358ft. Actual mileage will vary with options, driving conditions and driving habits. 2011 Ferrari California 2+2 Rosso Corsa over Nero Only 8,382 Miles! High-intensity projector beam headlights -inc: washers, delay-off, dusk sensor.
Rain & speed-sensitive intermittent windshield wipers. 12V front pwr outlets (2010). Dual-zone climate control w/driver & passenger controls.
Instrumentation -inc: tachometer, current gear & speed, TFT display, tire pressure warning, outside temp, trip computer. Pwr windows -inc: one-touch up/down. Remote anti-theft alarm system (2010).
Steering wheel-mounted Manettino drive-mode selector -inc: comfort, sport and track modes. 4.3L DOHC DI 32-valve V8 engine. Aluminum body & chassis (2010).
Front & rear stabilizer bars. Variable timing for intake & exhaust.
Emergency interior trunk release (2010). F1-Trac traction & stability control system. Passenger airbag occupant sensing deactivation (2010). No allowance or set aside will be made on account of any incorrectness, imperfection, defect or damage. D&M Motorsports opened the doors of our new Glen Ellyn facility on January 1, 2000.
Since then, we have solidified ourselves as an expert in the realm of the motor sport industry. We are a family owned and operated business since 1981, taking pride in our fine selection of low mileage motorcars. Every one of our vehicles is hand picked by the owners to maintain consistency and to make sure that they meet our high standards of quality. D&M Motorsports has made a name for itself locally through word of mouth, prestigious car shows such as BLOOMINGTON GOLD and extensive internet exposure around the country and world.
With a strong dealer network that spans from Germany to South Africa, D&M has worldwide presence. We are known for having the nicest and most pristine inventory around.
The "pushy salesmen" stigma does not exist at D&M. We are proud to have been chosen as the only authorized Campagna T-Rex dealer in the Midwest. In addition to having the largest T-Rex inventory in the nation, our spacious 20,000 sq. State-of-the-art indoor showroom always houses over 70+ cars in stock including a wide variety of Vipers, Prowlers, Corvettes, Porsches, Ferrari's, Lamborghini's and Lotus. Our staff consist of multiple sales consultants, a full-time professional detailer, a professional full-time photographer and other administrators that make the D&M experience what it is.
Ask around, our reputation speaks for itself. We welcome you to the pickiest auto dealership around. Stop in and see why so many people have chosen D&M Motorsports for over 40 years!
Bob and Mike were very courteous and patient with all my questions and concerns. They described the vehicle with the utmost integrity. I could not ask for better service from these guys. He was very kind and pleasant and carefully brought the car right to my front door in the time frame he had told me. My family and I really enjoyed talking and exchanging stories with him.
I wanted to write this to let you know how much I love the car and tell all you guys what great service you gave me. Jim, Pennsylvania - 1995 Chevrolet Corvette. The Corvette we bought was all and more that was shown to us on their internet site. Mike & Carol, Michigan - 2002 Corvette Convertible. I had been looking for a low mileage used Boxster for a couple of years and this one seemed too good to be true.
The price was less than what was being asked from private sellers but I did not have time to travel to Chicago to take a test drive. They assured me the car was everything as represented on their web site.
I recommend D&M Motorsports to one and all for their professionalism and customer service (and by the way - the Boxster is a blast). Fred, Georgia - 2004 Porsche Boxster. They helped us through the entire process and went above and beyond with all the paperwork. Best of all, the car was exactly how they described it.
They gave us a fair value for our 2004 Corvette and we are in love with our 2008 Corvette. We highly recommend D&M Motorsports. Joan, Florida - 2008 Corvette Convertible. This masculine, meticulously detailed shiny convertible rolled off the enclosed trailer ready to roll, it even sported a nice Birthday card in the glove compartment.
What a nice little gesture, THANK YOU :! And honestly Angie, you have made this an exceptional experience by your attentive interaction.
Please accept my sincere gratitude for keeping everything rolling along smoothly, even in the midst of a delay or two on my part. Jim, Iowa - 2007 Porsche Boxster. I had a completely great experience.
From the time Dave met me at the Chicago O'Hare airport until the time I drove away in my almost new (2005 corvette), I couldn't have asked for more. The car was exactly as advertised and what I expected. It was like a new car! This is a family owned and operated business and I felt like I was treated like family. It is great people like this who make successful businesses, not the U. I wish D & M Motorsports the greatest success in their business and many happy successful years. Philip, Georgia - 2005 Corvette Coupe. Part of the reason I bought sight unseen is because of the reviews I read. I have to say, the entire experience was exceptional. They were very prompt and accurate at answering my inquires. Even though there were many pictures of the vehicle already provided, additional photos were taken of the vehicle and e-mailed to me. When the vehicle arrived at my door, it was EXACTLY as described. I would do business with them again.... Brian, North Carolina - 1996 Viper GTS. I had been wanting a Shelby gt500 since they started coming back out. I always wanted the grabber blue with white stripes. They were great, helpful and most of all not pushy. Worry no more, car arrived and is unbelievable. It was as advertised if not better. Still has new car smell and it has 9,300 miles. I can't be happier that I made this decision.
Also of note had minor setback with missing wheel lock key and notified D&M to see if they had it. They never found it but offered to pay for replacement. Being that's the only misstep I think they came through with flying colors (grabber blue of course) did a little research and did find out this color combo is low production and was also the color combo picked by no other then Mr.
Kristian, Florida - 2010 Shelby GT500. My name is Jim and I have been collecting cars for over 46 years.
During that time I have had over 12 Corvettes and during the last 3 years I have been collecting High end classic cars. After working on a friends Corvette I got the bug to get another Corvette. I went to the internet site of D&M Motorsports. Their site has all High Def photos that are taken by a professional photographer and I found a pristine 1993 40th Anniversary Corvette with only 1,300 documented miles.
I went up to D&M and Dave handled the sale. Because of the low miles on the car Dave arranged with Mike to deliver the car in an enclosed trailer to my home.
Mike is the President & owner of D&M yet he took the time to deliver the car himself. In 67 years I have never taken the time to write a review on anyone, but D&M is truly special. Kevin & Angie were also fun to talk with and my entire experience was like hanging out with good friends. The truly unusual part of this deal was Mike took my pristine 1940 Chevy coupe in on trade. D&M is a High end sports car and Corvette dealer yet he took an antique car in on trade just to close the deal. I have been back several times just to wander their fantastic show room because every week they get in four or five different cars. Don't take my word for it check out their great website and if you are in the Chicago area stop in and meet them. D&M stands for Devoted Management.
Jim, Illinois - 1993 Corvette Convertible & 2001 Corvette Coupe. My name is George W, I'm 65 years old, and always had a yearning for a corvette. I started looking at web sites just to see what was out there and came across D & M. The photos and detailed description of each car is outstanding and gives you a feel for the vehicle.
I was a total novice and didn't have a clue what to look for or what questions to ask. I spoke with Angie and she was very helpful in explaining the different models and options.
I pretty much zeroed in on one car, thought about it for a couple of days and called her back and ordered it. The car had to be transported 600 miles, the first transporter didn't have the proper equipment, so D&M refused to load my car and arranged for a second transporter.
The car arrived on a Sunday and Angie called to make sure everything was as expected and that I was totally satisfied. I couldn't be happier, the whole experience with D&M was pleasant and professional. George, Tennesse - 2008 Corvette Coupe. The Porsche 911 arrived without issue and actually exceeded my expectations.
I was referred to D & M Motorsport by my boss who said "they were the best" if I was looking for a high performance vehicle, He was right! Dave and Angie are a great team. Phil, Virginia - 2000 Porsche 911. I saw a Maserati online that sparked some interest and eventually I sent an inquiry over to D&M. From that moment, Angie and the rest of D & M took care of me like I was family.
Angie and the staff were more than generous with their time giving me more information than requested. Also, the quality of the vehicles they have in stock are beyond belief. Beyond appearance was the fact that the cars history not only checked out but, was as clean as the vehicle itself. Everything about this experience was top notch and I would recommend D & M to anyone looking for a car. I would suggest you check out D & M if you want high quality from an extremely knowledgeable and friendly dealer. Chris, Chicago - 2006 Maserati. It is not my custom to do reviews since I have very little faith in the whole review process. No one seems to take the time to evaluate and come to a proper review to help the people looking for information. So I hope my words will be of value for a potential customer. I started looking for a Corvette in October of 2013 all over the Midwest and D & M Motorsports was just one of the dealers I pestered for 4 months, in those months I met with Angie and Dave checking out the cars I previously viewed and all their new arrivals.
In February 2014 they got in the car I wanted and I made an offer they agreed too and with the contingency I could have the car checked out. Not only did they agree to my terms they even stored the car for a month till the weather broke and at no charge. The whole experience was 1st class and I was never treated better by a dealer new or used. From the vehicles I looked at D & M all were in excellent shape and quality.
The detailing of each car is outstanding and if you view the website and see the pictures you will see what I mean. Frank, Illinois - 2007 Corvette Convertible. The only thing that I had to go on was provided pics over the web and a friendly voice on the other end of the line.
But I assure you in a world of small shifty dealerships these guys are NOT THAT! I trust them (which is something that I never thought that I would say about a car dealer).
The car runs great and is mint! It is one the finest examples of a low mile Elise that I had come across. They welcome 3rd party inspections and in that case as well the car passed with a perfect score.
Dave and Angie were super professional. I asked for a lot and they were not only able but excited to help. That was another interesting point: they really love what they do and it shows! George, New Jersey - 2005 Lotus Elise. The customer service we received far exceeded our expectations, and it was obvious Angie's focus was to not only take care of business but to treat customers the way she would want herself or her family members to be treated.
Kevin, who handled the financing from out of state, was wonderful to work with as well. The car was exactly as it was described and pictured. We would highly recommend D&M Motorsports to others! Don & Brenda, Florida - 2006 Pontiac GTO.
Currently working and living in Singapore with intentions to move back to Florida in SEP15. The title and bill of sale showed up via UPS at 1045AM and I had the Vette registered/tagged in the state of Florida by noon. My wife of 39 years was apprehensive with this whole process, but by the time we had 100 miles on the Vette she had already told me at least three times how much she liked my car and how impressed she was how smooth the process went.
So much so in fact she has asked me to work with D&M to locate her SUV for when we return for good in a couple of months. Jim, Singapore - 1995 Corvette Coupe. I had searched locally with no luck therefore I extended my search to the internet. I called Angie asked questions regarding their 2004 Corvette listed on their site. I immediately felt at ease, this is not your ordinary car lot no pushy salesperson or vehicles you would have to question. She answered all my questions in a most professional way and spoke with respect. Unlike other sites they offered many pictures of the Corvette not just two or three but enough you could see it from every angle.
She had told me it was a beautiful car and that I would not be disappointed. I don't feel I could recommend purchasing from all dealers over the internet but your investment is safe with D & M Motorsport. I would recommend D & M Motorsport to anyone looking for that special dream car. Sandy, Illinois - 2004 Corvette Coupe.
Started looking for another C5. I wanted either a white or yellow convertible with low miles. Couldn't find one locally so I looked on the internet. I found what I wanted at D&M Motorsports. I called and spoke with Angie.
I have always bought cars after I drove it at least 2 times. Angie assured me my 04 was exactly how it was described.
If it wasn't I could return it when it was delivered. Angie just seemed so honest I took a big chance and so glad I did. Kenny, North Carolina - 2004 Corvette Convertible. You were patient with us and all of our questions and concerns that this car was truly what you said it was.
We are VERY picky and Mike said he is even pickier. We believe Joe has met his match.
This car was everything you said it was. All of you could not have been nicer or more professional. It gives us a very good feeling that there are still good, honest people out there. We have dealt with car dealers in the past, that is why we were a little skeptical when you said how great this car was.
You were all honest with us from the beginning and did all you could to help us with whatever we needed. We would love your potential customers to know that they can believe in all of you and walk away with a good feeling! We will truly enjoy this car. Everyone that has seen it LOVES it! Joe & Theresa, Florida - 2010 Corvette Z06. I've never sent a testamonial, but felt compelled to send this one. My wife and I arrived at D&M's showroom 10 minutes before closing on a Saturday. Both Kevin and Mike made us feel welcome and told us to take our time and joked that they would be happy to order a pizza if we stayed late. They showed us several C6s, answered all of our questions and pulled the one we were interested in out so we could have a better look. I had driven my truck, so I showed Mike a couple of pictures of my 2001 C5 and he asked me what I thought it was worth. I gave him a range and he offerred the me the mid-point of my range and came down a little on his asking price. He then offerred to let us take the C6 that night if we wanted. I asked him to put the deal in writing and told him we'd think about it and get back to him Monday. I called Monday and accepted the deal and Mike himself delivered the C6 via trailer and and picked up our C5. The toughest part was picking one from their immaculate low mileage inventory. I'm sure I haven't found my last Corvette, but I've found my last dealer. Steve & Linda, Illinois - 2008 Corvette Coupe.
Chuck & Brenda, Washington - 2012 Corvette Grand Sport Convertible. After reading several of the testimonials on your website I dont know if I can add anything that hasnt already been stated. You answered all my questions and assured me that the 08 C6 would be better than the pictures shown and those pictures on your site were fantastic and when the car arrived your statement couldnt have been truer. This cars fit and finish just Screamed New! Ive owned several muscle cars but this is my first Corvette and it brings out my inner boy like no other vehicle before.
I would trust D&M Motorsports to find the best of the best motorcars available. Galvin, Alabama - 2008 Corvette Convertible. What is always significant is the people at D&M, the quality of their vehicles and most important the ease of purchasing one of their cars. They have become good friends. Les, Illinois - 2008 Corvette Z06. Although every effort is made to present accurate and reliable information, use of this information is voluntary, and should only be deemed reliable after an independent review of its accuracy, completeness, and timeliness. It is the sole responsibility of the customer to verify the existence of options, accessories and the vehicle condition before time of sale. Any and all differences must be addressed prior to time of sale. No expressed or implied warranties, including the availability or condition of the equipment listed is made. EPA mileage estimates for comparison purposes only. Actual mileage may vary depending on driving conditions, driving habits, and vehicle maintenance.
The item "2011 Ferrari California" is in sale since Monday, September 27, 2021. This item is in the category "eBay Motors\Cars & Trucks\Ferrari\California". The seller is "dandm-motorsports" and is located in Glen Ellyn, Illinois. This item can be shipped to United States.
Mileage: 8382
Vehicle Title: Clean
Year: 2011
Make: Ferrari
Drive Type: 2dr Conv
Engine: 4.3L V8 460hp 358ft.
Fuel Type: Gasoline
Body Type: Convertible
Options: --
Power Options: --
Exterior Color: Rosso Corsa
Interior Color: Nero
Transmission: 7-Speed Double Clutch
Warranty: Unspecified
For Sale By: Dealer
Model: California
Title: Carbon Fiber Steering Wheel + LEDs, Heated Seats & More!
SubTitle: Carbon Fiber Steering Wheel + LEDs, Heated Seats & More!
VIN: ZFF65LJA2B0181174
VIN Number: ZFF65LJA2B0181174
Get the Vehicle History Report
Deposit amount: 500.0
Deposit type: 1