5-Sits Full Set Car Seat Cover Leather Front Rear Protector Cushion For Toyota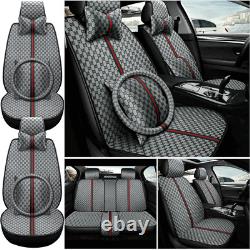 It is made of wear-resistant PU leather and filled with elastic sponge, which is comfortable and breathable. The front seat side is designed as a whole, which does not require shifting and sliding to protect the car seat. Reserve airbag outlet for durability. Eco-friendly linen and elastic sponge are both breathable, moisture-proof and comfortable to touch. The rear split type can be scaled according to the size of the vehicle and is not easy to slide.
Material: PU leather, linen, sponge.