Marada Racing Wheel Stand Racing Simulator Steering Wheel Stand with Red Seat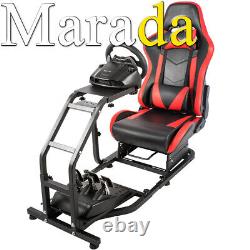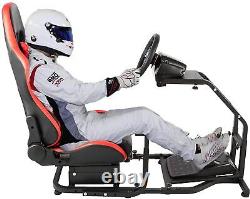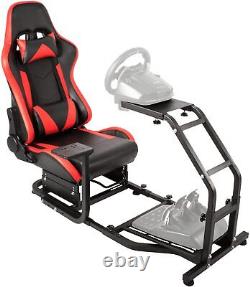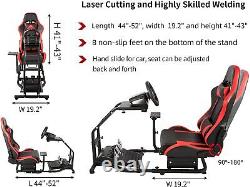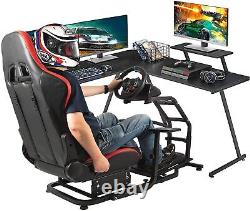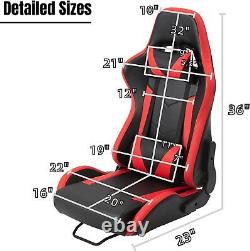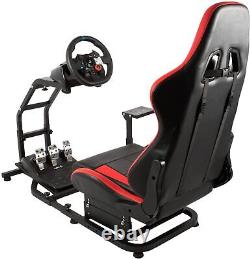 The height of the steering wheel stand is fully adjustable. It fits the height of any user. The shifter can be mounted on the left or right side, the height can be adjusted so you can easily choose according to your driving habits.
The shifter can also be adjusted back and forth, and there are four holes for distance adjustment. The back angle of the seat can be adjusted. There are eight rubber feet at the bottom of the racing cockpit to firmly grip the floor, which can protect the floor and the racing simulator cockpit is more stable.
Under the intense action, there will be no big shake. The racing wheel stand is made of carbon steel, which is a stable rigid frame that can be easily assembled by anyone. Each adjustment point is protected from wear and tear.
The surface of the steering wheel standsim rig cockpit is made of thick protective paint, which is very smooth and not easy to rust and lose color. It is also very easy to clean and can be wiped directly with a damp rag.
Our marada racing cockpit frame fits most major brands of steering wheels, pedals and shifters, supports Logitech G25 G27 g920 g923, fanatec, Thrustmaster t300rs, TX f458, t500rs. Can support drilling installation without affecting the use. Wheels, shifter, and pedals are not included. There are two packages of our seat and bracket, which may not be delivered at the same time, please don't worry.
Please rest assured that our products and services are guaranteed. If there are any missing or damaged product parts, please tell us immediately and we will handle it for you and arrange a replacement for you immediately. If there is any problem, we will be happy to deal with it for you. Please rest assured that our products are are trustworthy. Steering wheel platform can be adjusted back and forth, adjustment range: 0-3.9.
The length of the stand can be adjusted, the adjustment range: 44"-52". The height of the stand can be adjusted, the adjustment range: 24.4"-30.7". The rear seat frame can be adjusted, and the height and width can be adjusted. Marada Racing Wheel Stand Seat.
Logitech G923 / G920 / G29 / G27 / G25. Thrustmaster T300RS GT / T300RS / T300 Ferrari / TX / T-GT / TS-PC / TS-XW / T150 / T80 / T248 /Ferrari 458 / TMX / TMX PRO. Overall height (after the seat is installed): 43. Wheel, pedals, shifter are not included.