Minneer Square Tube Racing Sim Cockpit Steering Wheel Stand Fit LogitechG920 G29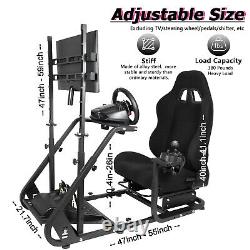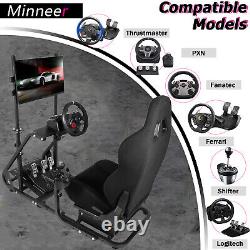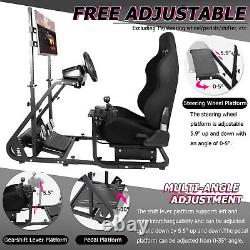 All products do not include steering wheels, pedals, joysticks, etc. Please rest assured that our products and services are guaranteed. About the cockpit 37 + red seat. Compatible with all racing wheels: PS3, PS4, XBOX, Xbox One, Xbox 360, G25, G27, G29, G920. Thrustmaster wheels, pedals and selector lever.
Wide racing seat with thick padding, seat sliders and angle adjustment. Support the front and back adjustment of the seat and adjust the angle of the backrest.
Professional analog racing bracket, rock solid, can be installed TV and TV bracket. All mounting hardware and tools included. Ready to use right out the box.
Please check the number of packages when receiving the package. We will solve the problem for you as soon as possible. MINNER's racing game stand gives you a real racing seat feeling to fit people of different sizes, and more importantly this product includes a TV stand base. You can install the right TV according to your needs, which can give you a more stable and safe gaming experience. This gaming stand will ensure long time.
Use, solid structure and quick installation, and it is both safe and ergonomic to put at home. MINNER's products will put more emphasis on professionalism, solidity and safety. The racing simulator cockpit driver's seat is decorated with faux PVC leather, which is both comfortable and easy to take care of.
Players can use it safely and securely! A real racing seat can slide forward, backward and recline. This cockpit's sturdy powder-coated steel frame has a steering wheel bracket, pedal bracket. And shifter bracket, all of which can be angled for a custom fit.
Making it easier for players to win the game! The main material is high-strength alloy steel with a thickened, rust-resistant coating. Every hole on the bracket is perfectly polished with solid color. Smooth surface and soft touch.
The simple and atmospheric design and high quality materials make it a unique match with any steering wheel and video. Minneer wheel mounts have produced high quality wheel mounts that are pre-drilled for Logitech G25, G27, G29, G920, Thrustmaster T300RS.
Thrustmaster T248, Hori, Ferrari pedals. The all-steel frame bracket allows for easy installation, easy assembly and unquestionable stability. Besides, other wheels on the market with pre-drilled holes can be clamped to the bracket. In addition, our products are available for PC, Windows, Xbox, PS and more. No matter what brand and model of controller you use, it will work fine.
About the cockpit 5 + red seat. The angle and height of the steering wheel bracket can be adjusted to bring the best driving experience for people of different sizes. You can rotate the pentagonal bolt to adjust the pedals to an ergonomic position, reflecting complete comfort. In addition, the gearshift lever can be adjusted from left to right, according to your habits and preferences to the angle that suits you. This stand can be folded up for easy storage after you finish the game, you can put it in a spare corner to make more reasonable use of storage.
Space for players with limited space at home, and the folded stand allows gamers to keep the love of the game. The racing simulator cockpit is designed with double beams. The rigid design of the pedals ensures a solid racing experience. The perfect combination of threads and nuts with a full range of accessories. The seat bottom has a sliding design that matches our racing cockpit and is easy to install.
The bracket is made of high-strength alloy steel, very solid and smooth, giving you a good sense of gaming experience. The surface of the bracket is coated with black anti-rust paint to protect the bracket from corrosion, which can be used for many years. The seat is adjustable from 90° to 180° and can be easily adjusted by the adjustment handle on the side of the seat. The steering wheel platform can be adjusted, the adjustment angle is 0-5°, you can adjust the steering wheel to the most suitable angle to better experience the sense of using the game.
You can unscrew the nuts at both ends to adjust the height of the stand according to your needs to find a position that suits you and is comfortable and then tighten the nuts. Make yourself in a comfortable game environment to win the game. The angle of the pedal can be adjusted, the adjustment angle is 0-15°, wide and large pedal can improve more space, can let the feet have more comfortable space to place. There are two double-locking slide rails at the bottom.
Before installing the rails, you need to install the steering wheel bracket, which is flexible in movement and easy to adjust. The stand can support many brands of steering wheel pedals on the market.
Logitech:G923, G920, G27, G29. Thrustmaster:T248PS, T248XBox, T300RS GT, TSPCRacer_cockpit_settings. Material: high strength alloy steel. Package size:31.5"x14.6"x22.5.