Momo Automotive Accessories R1913/35S 350mm MOD. 69 Racing Steering Wheel NEW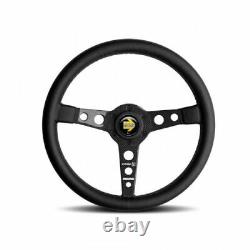 69 Racing Steering Wheel - Black Suede. Brandname: Momo Automotive Accessories Part Number: R1913/35S Description. Visually sharing similarities with the MOMO MOD.
69 differentiates itself with a thicker premium suede wrapped grip with a streamlined shape that for maximum steering flow. Back finger grooves on the grip assist with maximum driving comfort. A yellow MOMO logo on the bottom spoke and horn button provide a pop of color. At 350mm in diameter and pair with a 39mm dish, the MOD. 69 is best suited for sedans and GT race cars.
Steering Wheel Dish (mm): 39mm. WARNING : This product can expose you to chemicals including Styrene, which is known to the State of California to cause cancer.